Tazo Tea
TAZO Tea
.
Although we have been happy to supply Tazo tea to the Atlanta area, we are now discontinuing in favor of Teavana. When remaining stock is depleted, items will be removed. The boxes are the same size and compatible with the same racks.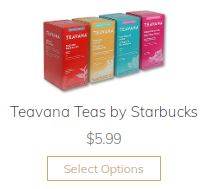 Each box of Tazo Tea contains 24 individually wrapped bags of tea, as only Starbucks and Tazo can do it. TAZO - The Reincarnation of Tea.
Very cost effective upgrade to your coffee service / tea service for your employees. You truly do get what you pay for in this category, and the quality of Tazo Tea is undeniable.
---